Schneider Electric Paris Marathon – 2024 Registration & 2023 Results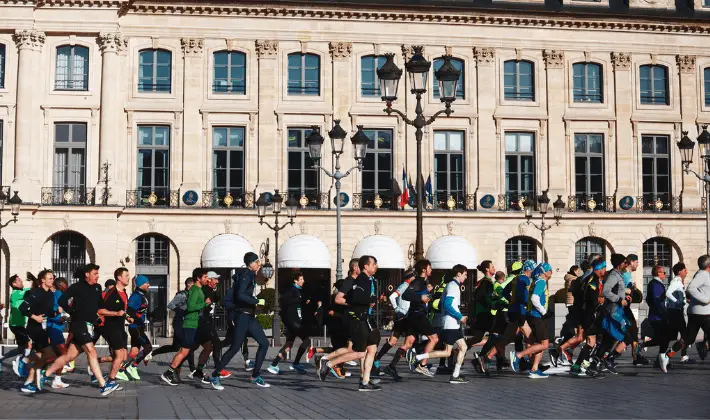 The Schneider Electric Paris Marathon or the Marathon de Paris is an annual marathon event held in Paris, France. The Schneider Electric Marathon de Paris is one of the biggest marathons in the world second only to the New York City marathon in terms of number of finishers. It is usually held in April and has an upper limit of 50000 runners (which is quickly reached).
The first Paris Marathon, the Tour de Paris Marathon, took place in 1896 and was run over a course of 40 km (25 mi) from Paris to Conflans-Sainte-Honorine. The distance of 40 km was chosen as it was the distance separating Marathon from Athens.
In its current version (42.195 km), the Paris Marathon dates from 1976 and its scenic route takes the participants across Paris offering spectacular views and landmarks all along the route.
Unique to this Marathon (but similar all races in France), the Paris Marathon requires a doctor's note no more than a year old, stating that there is "no contraindication to competitive running"
---
Book Your Stay Near Race Starting Point
---
Schneider Electric Paris Marathon:
Race Categories, Dates, Registration, Eligibility & Fees
Marathon
Paris Run For All
Marathoon (for Kids)***
Distance
42.2km
4.2km
400mtrs/ 800mtrs/ 1200 mtrs
Race Date
7th April, 2024
6th April, 2024
6th April, 2024
Start Time *
7:55 am onwards**
9:00 am
TBD
Eligibility Criterion
20 years & above^
12 years & above^/ *
400 mtrs: 5-6 years*
800 mtrs: 6-7 years
1200 mtrs: 8-10 years
Fees
Euro 110 & Up
(Euro 200 & Up for Duo team)
Free^^/ *
Information Not Available
Registration
Register here
Registration Not Yet Open
Registration Not Yet Open
Expo Details
Venue: Run Experience Fair, Parc des Expositions – Porte de Versailles, 75015, Paris
Date: 4 April (3pm-8pm), 5th April (10am-8pm) & 6 April (10am-7pm)
*Details of Eligibility (for races other than FM), Registration Fees (for races other than FM), Race Start time, etc. for the Schneider Electric Paris Marathon 2024 have not yet been released. Above are details from 2023 edition for reference
** Different race start timings as per category – detailed below: 
7:55am : Disabled athletes/ Wheelchair: 
7:59am : Marathon Elite (women) 
8:15am : Marathon Elite (men) & Preferential
8:16am : Red Wave (3hrs)
8:27am : Orange Wave (3:15hrs)
8:40am : Blue Wave (3:30hrs)
9:20am : Purple Wave (3:45hrs)
10:00am : Green Wave (4hrs)
10:32am : Gray Wave (4:15hrs)
10:45am : Pink Wave (4:30hrs)
*** Children can also take part of the Schneider Electric Marathon de Paris by running the Marathoon's on Saturday prior to Race Sunday. Three starts are planned depending on the children's ages:
5-6 years – P'tits Marathooniens: 400m
6-7 years – Moyens Marathooniens: 800m
8-10 years – Grands Marathooniens: 1200m
^For Marathon: Participant should be 20 years by the end of the race year. For paris Run for All: Under 15 years old must be accompanied by an adult
^^ Registration is by donation to the association "Lames de joie": Those 18 years old and under: Donation of 2, 5 or 10 euros and Those Over 18 years old: Donation of 12, 20, 50 or 100 euros
---
Route / Course Map
Information about the course maps & other details for the Schneider Electric Paris Marathon 2024 not yet available. Below are details from the 2023 event
The Schneider Electric Paris Marathon route has an OUT & BACK course with the below mentioned Start and Finish points:
| | Start Point | Finish Point |
| --- | --- | --- |
| Marathon | Place De La Concorde, Top of the Champs Elysées | Arc De Triomphe, Bottom of Avenue Foch. |
| Paris Run For All | Rue de l'Amiral de Coligny | Champ De Mars |
---
Prize Money
Information about the prizes/ awards for the Schneider Electric Paris Marathon 2024 is not yet available. For 2023 event, the total prize purse was 500,000 Euros with the winner getting 50,000 Euros and the 15th placed runners getting 500 Euros
---
2023 and Earlier Edition Results
Results
Photos
---
Important Points
Registration transfer: No registration transfer is possible, whatever the reason. The rules of the event state that "Any registration is personal, firm and definitive and cannot be refunded for any reason", and "no transfer of registration is authorised for any reason whatsoever". If participant has signed up for cancellation insurance, refund of race amount is possible under certain conditions
Wheelchair: Registration for the wheelchair race or for the standing race (blind, hearing impaired, etc.) is done through the French Handisport Federation: All the relevant information about handisport can be found here
Medical certificate: A valid medical certificate stating "no contraindication to the practice of athletics in competition" or "no contraindication to the practice of running in competition" or "no contraindication to the practice of sports in competition", dated less than one year before the date of the race, is required to run the marathon.
Pacers are available
Lockers are available
Aid stations: There would be aid stations located along the course providing water, bananas, spice bread slices, sweet cake slices, Salted biscuits, etc. Washroom and medical facilities would also be provided en route
Contact Information
Queries : https://www.timeto.com/en-GB/contact
Phone: (from Monday to Friday) +33 (0)9 69 36 88 21
For Corporate registrations: Contact – Anaïs LELOUP. Email: aleloup@aso.fr or Phone: +33 (0)1 41 33 15 18
For Volunteering: Contact Arthur Thévenot. Email: partagetapassion@aso.fr or Phone: +33 (0)1.41.33.46.67
For Sponsorship: Contact Clément Uzan. Email: cuzan@aso.fr
For Partenariats Médias: Contact Camille Bonnome. Email :cbonnome@aso.fr
For Exhibitor: Contact Charles Mabille. Email: cmabille@so.fr or Phone: + 33 (0)1.41.33.46.52
For Hospitality Programs: Contact Anaïs Leloup. Email : aleloup@aso.fr or Phone: + 33(0)1.41.33.15.18