Western Sydney Marathon – 2023 Registration & 2022 Results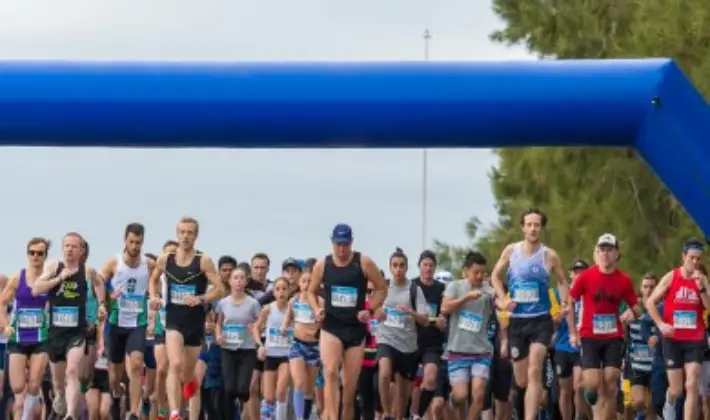 | | | |
| --- | --- | --- |
| Sydney, Australia | October 8, 2023 | Registration Open |
Western Sydney Marathon is an annual race being held in Penrith, Sydney since 2010. With a backdrop of picturesque lakes and the Blue Mountains, the flat track offers a fast race to beat PBs or the option to just enjoy a family day out!
The WSM offers various races for all ages and capabilities – Full Marathon, Half Marathon, 10k, 5k Family Fun run, and a 2k youth dash.
---
Book Your Stay Near Race Starting Point
---
Western Sydney Marathon
Race Categories, Dates, Registration, Eligibility & Fees
Marathon
Half Marathon
10K
Family Run
Youth Dash
Distance
42.2km
21.1km
10km
5km
2km
Start Time
7:00 am
7:30 am
10:00 am
11:00 am
12:00 pm
Eligibility Criterion
16 years & above
16 years & above
12 years & above**
No age criterion specified
6-16 years**
Fees – Regular
AUD 110
AUD 90
AUD 45
AUD 35 #
AUD 20
Fees- Race Day @
AUD 130
AUD 110
AUD 70
AUD 55 #
AUD 30
Registration
Register here 
Register here 
Register here 
Register here 
Register here 
Expo Details
Posting of Race bibs is available at a nominal cost (Postage will occur in the fortnight prior to the event). Else, race bibs can be collected on race day (in the registration area) an hour before race start. There is no pickup prior to the event day in 2024.
** Under 16 years need to be accompanied by an adult.
# Race entry is free for anyone under 5 years participating in the 5km Family Fun run (a small fee applies)
@Registrations/ Entries are usually also accepted on the day of the event also if maximum numbers have not been reached. Prices are higher on race day
Note Group discounts of 10% are available for groups/teams of 3 or more.
---
Route/Course Map
Information about Route Map for Western Sydney Marathon 2023 are detailed below
Check for More Information on Course maps and other details for Western Sydney Marathon 2023.
---
Prize Money
No cash prizes are usually declared for the Western Sydney Marathon.
For Western Sydney Marathon 2023, the following awards/ trophies would be awarded:
Trophies are awarded to the Top 3 Male & Female finishers.
The trophy is also awarded to 1st place para-athletes.
---
2022 and Earlier Edition Results/Photos
Results
Photos
---
Important Points
Registration Fee is non-refundable & registrations are non-transferable.
Domestic pets, rollerblades, skates, scooters, skateboards, and bikes are not permitted on the course at any time.
Prams are permitted in the 5km Family Fun Run but must keep to the left of the course at all times allowing runners clear passage to pass.
On event day there is free all-day parking on-site at the Sydney International Regatta Centre.
There will be 4 standard drink stations along the course with water and electrolyte drinks as well as one special needs station in front of the boatsheds near the start line where runners can (at their own risk) place items of their choosing. This station is only for those who place items and is not a regular station.
Runners can also have someone pass you gels, water, and snacks along the way.
Wheelchairs are allowed for all races except for the 2k Youth Dash. No mechanical gears are permitted on the chair. Hand cycles are not permitted.
Time limits are applicable for all races. After 1 pm, the course would be open for regular vehicular traffic.

Full Marathon: 6 hrs
Half Marathon: 5 hr 30 min
10km : 3 hrs
Family Run: 2 hrs
Youth Dash: 1 hr
Contact Information
Phone: (02) 4730 0000
Email: westernsydneymarathon@sport.nsw.gov.au
Website: https://www.westernsydneymarathon.com.au/
Facebook: https://www.facebook.com/westernsydneymarathon