Dubai Marathon – 2024 Registration & 2023 Results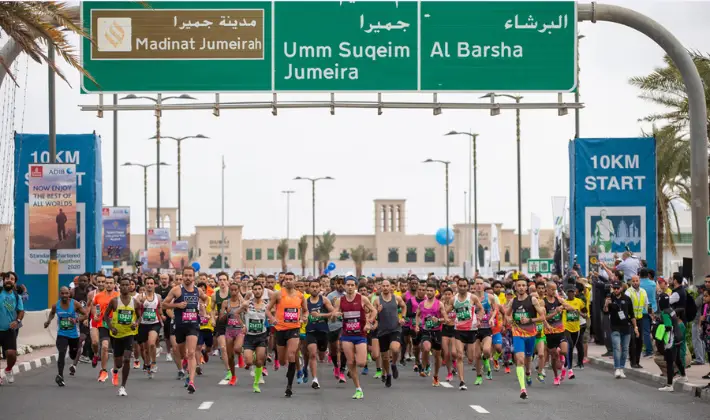 The Dubai Marathon is an annual marathon held in Dubai, United Arab Emirates. Inaugurated in 1998, the Dubai marathon is a Gold Label Road Race by World Athletics.
The event is founded by Ahmad Al Kamali and is organized by Pace Events FZ LLC (a team from the UK). Samsung was the official title sponsor from 2001 till 2004 but starting in 2005, Standard Chartered became the title sponsor for the Dubai Marathon.
The 2021 edition of the Dubai Marathon was canceled due to the pandemic while the 2022 edition of the race was postponed to 2023 due to the 2022 FIFA World Cup hosted by Qatar due to an expected shortage of accommodation for marathoners if the race were to be held at the same time as the tournament.
---
Book Your Stay Near Race Starting Point
---
Dubai Marathon
Race Categories, Dates, Registration, Eligibility & Fees
Marathon
10K Road Race
4K Fun Run
Distance
42.2km
10km
4km
Start Time
6:00 am
6:30 am
10:00 am
Eligibility Criterion
18 years & above
15 years & above
No age criterion
Fees
$150
$85
$50
Registration
Register here
Register here
Register here
Expo Details
Venue: Adidas Store- Dubai Mall
Date & Timings: 3rd Jan (3pm-10pm), 4th Jan (10am-10pm), 5th Jan (10am-10pm) & 6th Jan (10am-5pm)
---
Route/Course Map
Information about the race route map and other details for the Dubai Marathon 2024 are detailed below
The Dubai Marathon route for all races was an OUT & BACK course with the below-mentioned Start and Finish points:
| Start Point | Finish Point |
| --- | --- |
| Umm Suqeim Road, near Madinat Jumeirah, Dubai | Dubai Police Academy, Umm Suqeim Road, Dubai |
---
Prize Money
Information about the prizes/ awards for the Dubai Marathon 2024 are detailed below
Marathon
Open
Marathon
UAE Nationals
Marathon
Push Chair Open
Marathon
Push Chair UAE Nationals
10K
Open
10K
UAE Nationals
1st prize
$ 80,000
AED 5,000
AED 25,000
AED 5,000
AED 4,000
AED 4,000
2nd prize
$ 40,000
AED 3,000
AED 15,000
AED 3,000
AED 2,000
AED 2,000
3rd prize
$ 20,000
AED 2,000
AED 10,000
AED 2,000
AED 1,000
AED 1,000
4th prize
$ 10,000
—
—
—
—
—
5th prize
$ 5,000
—
—
—
—
—
6th prize
$ 4,000
—
—
—
—
—
7th prize
$ 3,000
—
—
—
—
—
8th prize
$ 2,500
—
—
—
—
—
9th prize
$ 2,000
—
—
—
—
—
10th prize
$ 1,500
—
—
—
—
—
---
2023 and Earlier Edition Results/Photos
Results
Photos, Videos & Individual Photos
---
Important Points
Corporate Challenges: Dubai Marathon also offers the Corporate Challenge:

Full marathon: A minimum of 3 participants
10K: A minimum of 5 participants

Bib collection: At the expo, it is recommended that participants collect their own run number in person and provide proof of identity. A designated person can also pick up the run number on behalf of the participant provided they are carrying a printout of the final confirmation letter/email received by the runner and have proof of their identity
Live tracking: A free mobile app is available to aid both runners & spectators – Mika tracking & event app. The mobile app is available on the App Store and Google Play.
Weather: The temperature on race day is usually around 10-15 degrees Celcius at the start time.
Baggage facilities will be available near the start and finish area for Marathon and 10km Runners only
Aid Stations: There are aid stations located along the course.

Drink Stations – Water
Marathon – Will be provided every 2.5km from 5km to 40km and at the finish.
10km Road Race – Will be provided

at the 3km point, 8km point and

at the finish

.
4km Fun Run – Will be provided at the finish.
Drink Stations –O.R.S. Hydration drinks 
Marathon – Will be available at 15km, 20km, 25km, 30km, 35km, 40km and at the finish.

10km Road Race – Will be provided at the 8km point and at the finish

Toilets
Marathon: Will be available at 5km, 10km, 15km, 20km, 25km, 30km, 35km, 40km, and at the finish.

Medical: An Ambulance and the medical station will be available on the Marathon route at 5km, 10km, 15km, 20km, 25km, 30km, 35km, 40km, and at the finish. Medics will also be present at every intermediary station.
Time limit applicable on the course for after which the course is thrown open to normal traffic
Contact Information
Email: info@pace-events.org
Website: https://www.dubaimarathon.org/