Antarctic Ice Marathon – 2023 Registration & 2022 Results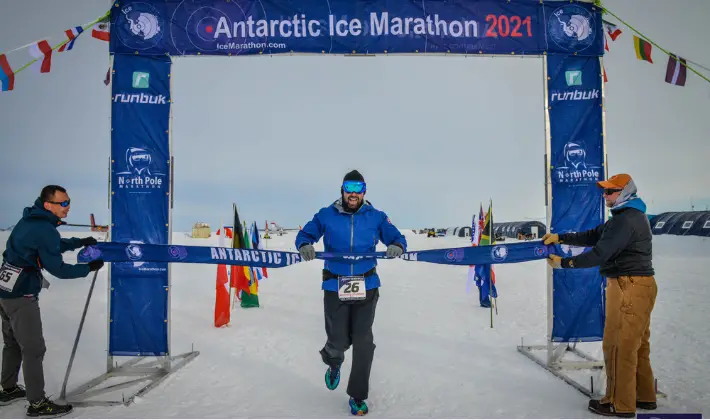 The Antarctic Ice Marathon is a marathon held in the world's southernmost parts on the Union Glacier, Antarctic. The Antarctic Ice Marathon was established by Richard Donovan in association with Polar Running Adventures to enable marathon runners to complete a marathon on all seven continents. It enables athletes to complete the marathon grand slam as well (a marathon on all seven continents and the North Pole).
The Antarctic Ice Marathon takes place just a few hundred miles from the South Pole at the foot of the Ellsworth Mountains. Participants are flown from Punta Arenas, Chile to the race location in the interior of the Antarctic. The race is held at sub-zero temperatures but runners can experience 24 hours of daylight while they are in the Antarctic.
There have been sixteen Antarctic Ice Marathon races to date.
---
Antarctic Ice Marathon
Race Categories, Dates, Registration, Eligibility & Fees
* Entry fee includes below listed:
Entry to the race of choice
Briefing in Punta Arenas one day prior to departure
Round-trip flights from Punta Arenas to Antarctica
Transfers to and from Punta Arenas airport, Chile for Antarctic flight
Meals and tented accommodation while in Antarctica
A Baggage allowance of up to 55lbs (25kg) on the Punta Arenas-Union Glacier flight
Medal, t-shirts, patches, and other souvenirs of the race
Professional photos for personal use (and local publication)
** If Full payment is being made at the time of registration, then a discount of $1000 is given (hence effective price = USD $20,500). Alternatively, the payment can be done over 3 installments (latest by 31st March 2023).
---
Route/Course Map
No course map is available for the Antarctic Ice Marathon 2023. The Marathon race will be run in the vicinity of the Union Glacier camp, normally on a 10.55km loop that is repeated four times.
---
Prize Money
No prizes are awarded for the Antarctic Ice Marathon.
---
2022 and Earlier Edition Results
Results
---
Important Points
There are no passports or travel documents required for Antarctica. However, participants need to have a valid passport and the appropriate visa documents for entry to Chile.
The tentative schedule provided by race organizers

Dec 9th: Latest Arrival at Punta Arenas, Chile
Dec 10th : Punta Arenas, Chile
Dec 11th: Pre-Departure briefings
Dec 12th: Flight to Marathon location at Union Glacier, Antarctica
Dec 13th: Antarctic Ice Marathon / Half Marathon
Dec 14th: Return Flight to Punta Arenas, Chile
Dec 15th: Departure to Homeland

Medical advisory

All participants should be in excellent health
Please consult with your doctor before entering the Antarctic Ice Marathon.
It is mandatory to have emergency medical evacuation insurance for Antarctica

Cancellations are allowed but are chargeable as follows:

Before April 2022: $300.

1 April 2022 – 31 August 2022: $7,000.

1 September 2022 – 31 March 2023: $14,000.

After 31 March 2023: Full entry fee of $21,500.

The marathon race will be run in the vicinity of the Union Glacier camp. The race is in loops of 10.55km with Half marathoners doing 2 loops and marathoners doing 4 loops.
There will be an aid station every 5km.
Time limit applicable on the course

Full Marathon –10 hrs
Half Marathon – 6 hrs

Participants can read more about the following topics here

Training: To check organizers -suggested sites and books, please check Training
Acclimatization: While acclimatization is not an issue since the race occurs at 700meters, the main challenges are the cold weather conditions and underfoot terrain
Running gear: The temperature at Union Glacier typically ranges from –10C to –20C at the time of year hence a layering system is best, which should incorporate the following:
Upper body – thermal layer, fleece layer, and outer windproof shell
Legs – thermal layer and windproof pants
Hands – pair of gloves and mittens
Feet – sock liners and woolen socks
Head – balaclava, facemask, hat, neck gaiter, goggles
To know more about appropriate running gear and polar clothing requirements, please check the information provided by organizers on Running gear and Polar Clothing
Before making travel bookings please read about getting to Punta arenas, Chile, and onwards to the Antarctic, please check the information provided by organizers on Getting to Punta Arenas and Getting to the Antarctic
Sponsorship: since the cost of traveling to the Antarctic Ice marathon and participating in the race can be expensive, sponsorship logos are allowed during the race. You can also raise funds for charities

Race fees do not include:

Commercial flights to and from Punta Arenas
Transfers to and from Punta Arenas airport (except for Antarctic flights)
Meals and accommodation in Punta Arenas
Personal equipment and clothing
Expenses incurred in Punta Arenas due to delays
Any excess baggage costs over the confirmed baggage allowance
Cost for the use of satellite phone whilst in Antarctica
Insurance coverage – personal, medical, or otherwise
Contact Information
Postal Address: Runbuk, Inc., 433 Airport Blvd. Suite 415, Burlingame, CA 94010 USA
‍Email (Richard Donovan- Race Director): rd@icemarathon.com
‍Email (Oliver Wang): ow@icemarathon.com
‍Email (Mark Conlon- Photography ): mc@icemarathon.com
Website: https://www.icemarathon.com