FirstEnergy Akron Marathon – 2023 Registration & 2022 Results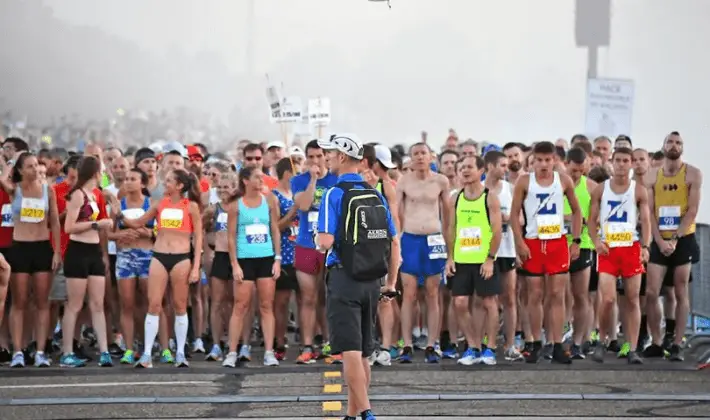 One of 3-part race series, the FirstEnergy Akron Marathon is an annual event held in Akron in the month of September every year since the year 2003. The event offers a Full Marathon, Half Marathon, Team Relay as well as Kids Fun Run. It is considered a challenging course taking the participants through Akron's historic landmarks and scenic neighborhoods
The course is a USATF Certified Course and is a qualifying event for the Boston Marathon.
---
Book Your Stay Near Race Starting Point
---
FirstEnergy Akron Marathon
Race Categories, Dates, Registration, Eligibility & Fees
Marathon
Marathon Relay
Half Marathon
Kids Fun Run
Distance
42.2km
42.2km
21.1km
1.6km
Race Date
30th Sep, 2023
30th Sep, 2023
30th Sep, 2023
29th Sep, 2023
Start Time
7:00 am **
7:00 am
7:00 am
5:30 pm
Eligibility Criterion
16 years & above
12 year & above
14 years & above
12 years & Under
Fees
$105
$50 per member
$85
Free
Registration
Registration closed
Registration closed
Registration closed
Registration closed
Expo Details
Venue: John S. Knight Center, 77 East Mill Street, Akron, Ohio
Date & timing: 29th September (11am-8pm)
**Wheelchair division starts at 6:59 am
---
Route / Course Map
Please check information about the course maps & other details for the FirstEnergy Akron Marathon 2023 below
The FirstEnergy Akron Marathon 2023 routes are OUT & BACK course with the below mentioned Start and Finish points:
| | Start Point | Finish Point |
| --- | --- | --- |
| Marathon/ Relay/ Half Marathon | Akron Art Museum, 1 S High Street, Akron | Akron Civic Theatre, 182 S Main Street , Akron |
| Kids Fun Run | 300 S Main Street , Akron | Akron Civic Theatre, 182 S Main Street , Akron |
---
Prize Money
Information about the prizes/ awards for the FirstEnergy Akron Marathon 2023 are detailed below
1st Prize
2nd Prize
3rd Prize
MARATHON
Marathon Open division
$ 2500 + Champion Brouse Cup
$ 1500
$ 1000
Marathon Masters division
$ 500 + Champion Brouse Cup
$ 375
$ 250
Ohio Resident Division
$ 750
$ 500
$ 250
HALF MARATHON
Half Marathon Open division
$ 1000
$ 750
$ 500
Half Marathon Masters division
$ 400
$ 300
$ 200
Other than above, the following incentives are also awarded in the FirstEnergy Akron Marathon
| | Incentives |
| --- | --- |
| Marathon | |
| Open Course record (M= 2:15:59 and F= 2:39:09) | $ 500 |
| Masters Course record (M= 2:23:44 and F= 2:49:52) | $ 500 |
| Wheelchair Division – First place | Award Plaque |
| Half Marathon | |
| Open Course record (M= 1:03:58 and F= 1:14:18) | $ 500 |
| Masters Course record (M= 1:05:16 and F= 1:25:29) | $ 500 |
Points to Note for Prize Purse
  – Awards are equal for Male and Female participants
  – Awards are reserved only for citizens of USA
  – All Overall and Master's awards are based on Gun Time, not Chip Time.
  – Athletes can only be eligible for prize money in the event in which they are registered for.
  – Participants CAN win more than one award where prize money is attached (e.g. eligible winner can double dip into overall AND Masters division).
  – The top 3 Male and Female Marathon and Half Marathon finishers in all age categories will receive recognition awards: 19 and under, 20-24, 25-29, 30-34, 35-39, 40-44, 45-49, 50-54, 55-59, 60-64, 65-69 and 70+. You can win only one award.
  – Overall and Master's winners will be removed from Age Group Awards.
  – Top 3 Relay teams are also awarded (Male/ Female/ Mixed)- both Open & Masters Division

---
2022 and Earlier Edition Results
Results
---
Important Points
Transfer: Registration fees is transferrable to another person up to 45 days prior to the event date.
Refund/ Deferment: No refund or deferment allowed. If you have purchased registration insurance, you can file a claim for refund with the registration insurance company
Elite/ seeded athletes: Enhanced experience & complimentary entry is provided to qualified elite/seeded athletes. Please check more details about Elite/ Seeded Athletes here
Wheelchair Division: Only Push-Rim racing chairs are allowed. Handcycles are not allowed
Race Packet/ Bib collection: In case participant is unable to pick up their own race packets, they can authorize another person to pick up participant packet. The proxy must be able to verify runner's registration information. No packet pick up is available on race day
Non permitted items: Pets, skateboards scooters, bicycles, roller blades, strollers, baby joggers, baby carriers or any other types of vehicles (other than official race vehicles) are not allowed
Head phones: Yes- they are allowed but runners must be aware of their surroundings and be courteous of those around them. Participants vying for prize money/overall awards are not permitted to wear headphones during the race.
Corrals: Runners would be released in waves. There would be a total of 8 corrals with first 2 corrals for Elite & Seeded Athletes. The remaining 6 corral are assigned based on the timings submitted during registration
Aid stations: Water & Sports drinks would be available at all aid stations. Gels would also be available at limited aid stations.
Other facilities: Portable toilets and medical aid would also be available along the course
Relay distance & start locations:
Leg #1: Starts at 1 S High St. and is 4.2 miles
Leg # 2: Starts at 250, E Mill St. and is 6.9 miles
Leg #3: Starts at 245, Wolf Ledges Pkwy and is 5.8 miles
Leg # 4: Starts at 1300 Sand Run Pkwy and is 4.5 miles
Leg # 5: Starts at 1565 Fairfax Road and is 4.8 miles
Pacers are available who will pace groups of runners
Time limit applicable on the course for after which the course is thrown open to normal traffic
-Full Marathon –6 hrs 30 min
– Half Marathon -3 hrs 30 min
For further/ more detailed information, please check Participant Guide here, Rules & Regulation guide here
Contact Information