Satara Hill Half Marathon – 2024 Registration & 2023 Results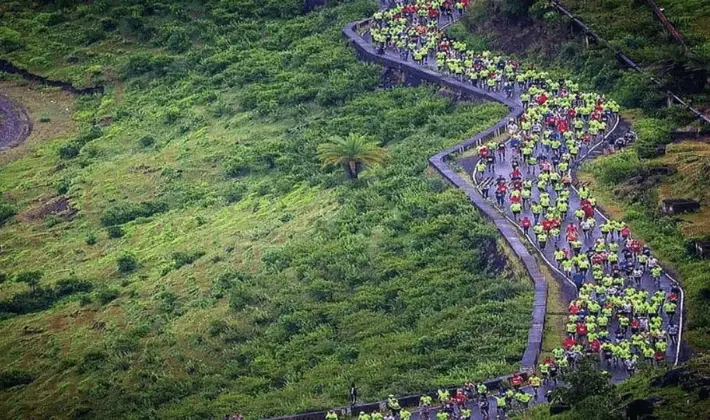 *For 2023 event, pre-registration opened in first week of April 1st week while the final registrations opened  a week after that. Registration was allowed only with pre-registration code 
The Satara Hill Half Marathon, organized by Satara Runners Foundation, has been held every year since 2012 in the historic city of Satara. An AIMS-certified run, the SHHM is usually held in the first half of September attracting enthusiastic runners not only from India but also from all over the world.
It is also called the "Ultra Half Marathon" for its challenging route – which is scenic and beautiful but definitely NOT easy. With the course being a tough one, the SHHM might not give many runners an opportunity to run their PB, but it definitely will give a runner high never experience before and would be a feather in any runner's cap.
Not only does SHHM hold the Guinness World Record for "Most people in a mountain run – Single mountain." with 4801 runners, but it has also been nominated by Runner's World (magazine for runners) as World's Best / Must do / Bucket List Half Marathon races – not once but 3 times.
Given the challenging nature of the hilly route, the race organizers are usually prepared to handle any medical emergency. But they also are strategic partners with IIRM (International Institute for Race Medicine which promotes the best practices in marathon racing) – currently, the only race in India to be a member partner.
The organizers base the race on a theme every year taking up a cause – the theme for the 12th edition of SHHM 2023 was "Vasudhaiva Kutumbakam" meaning "The World is one Family."
---
Book Your Stay Near Race Starting Point
---
Satara Hill Half Marathon
Race Categories, Dates, Registration, Eligibility & Fees
| | Half Marathon |
| --- | --- |
| Distance | 21.1km |
| Start Time * | 6:30 am |
| Eligibility Criterion * | 16 years & above |
| Fee for Local Satara Category * | INR 1100 + GST |
| Fee for Outstation Category * | INR 1800 + GST |
| Fee for Open / International Category * | INR 2800 + GST |
| Registration | Registration not yet open |
| Expo Details * | The Expo Venue for 2023 event was at Abhaysinhraje Sanskrutik Bhavan, Shendre Fata, Shendre, Satara 415 004 |
* Details of Eligibility, Registration fees, Race Start time, Expo details, etc. for the Satara Hill Half Marathon 2024 has not yet been released. Above are details from the 2023 race event for reference
---
Route/Course Map
Information about the course maps & other details for the SHHM 2024 not yet available. Please check the information from the 2023 event below
Please check the Course map (Video format) and Elevation details for Satara Hill Half Marathon 2023.
Please check Start and Finish point Map here
The SHHM route has an OUT & BACK course with the below-mentioned Start and Finish points:
| Start Point | Finish Point |
| --- | --- |
| Satara Police Parade ground, Near ST Bus stand, Satara | Satara Police Parade ground, Near ST Bus stand, Satara |
---
Prize Money
Information about the prizes/ awards for the SHHM 2024 not available but below are details from the 2023 edition
| | 1st Prize | 2nd Prize | 3rd Prize |
| --- | --- | --- | --- |
| General category – Open | INR 50,000 | INR 30,000 | INR 20,000 |
| General category – Other Age categories | INR 15,000 | INR 10,000 | INR 7,000 |
All finishers – who finish their race within 4 hrs from gun time- would receive a finishers medal. To make it more challenging, the organizers have divided the finisher's medals into 3 different categories depending on the finish time. This time is based on gun time and not chip time.
| | |
| --- | --- |
| Hill Champion | 8:30 am |
| Hill Conqueror  | 9:00 am |
| Hill Challenger  | 10:30 am |
Points to note for prize money:
All prizes are separate and equal for male & female participants.
Finish positions of all runners would be based on chip time.
The first three Indian finishers from each of the General Age group categories will be entitled to the prize money in their respective General Age group category.
However, if a runner from a General Age group category ends up among the First Three winning positions of the Indian Open category, then he/she will be entitled to receive BOTH the prizes; the prize from the Open category as well as the Prize in his / her own age group category.
Age categories : Open, 30-34, 35-39, 40-44, 45-49, 50-54, 55-59, 60-64, 65-69, 70+.
The prize money was given to winners in the form of Cheques only – sent by registered post, within 30 working days after the event.
Prize Money winnings are subject to Indian Income Tax Rules as applicable and taxes, if deductible, are borne by the winner.
Prize winners may be required to submit further proof of identity/age.
Winners from outside India receive prize money equivalent to US Dollars calculated at the applicable exchange rate.
---
2023 and Earlier Edition Results
Results
Photos
---
Important Points
Registration is non-refundable and non-transferable. No cancellations are allowed.
Usually, all slots get full within hours of registration opening. Hence, we advise you to keep the following things in mind:

Online payment mode only. No cash/ cheque payments
Ensure good network connectivity
Keep the following documents at hand:

Residence proof – only scanned Aadhaar Card copy is accepted for Indian Nationals (max size 5 MB).
Finisher timing certificate from recent previous live event (half or full marathon).
Count of previous SHHM finishes (if any).

Organizers advise slower runners to keep to the right of the road to let faster runners overtake from the left.
Contact Information
Email: runsatara@gmail.com
Address: Satara Runners Foundation & Museum, 1st Floor, Gulmohar Plaza.Opposite Hotel Sai Raja.Near Kadam Petrol Pump, Radhika Road.Satara. Pin 415001
Website: https://runsatara.com/
Facebook: https://fb.me/runsatara