Napa Valley Marathon – 2024 Registration & 2023 Results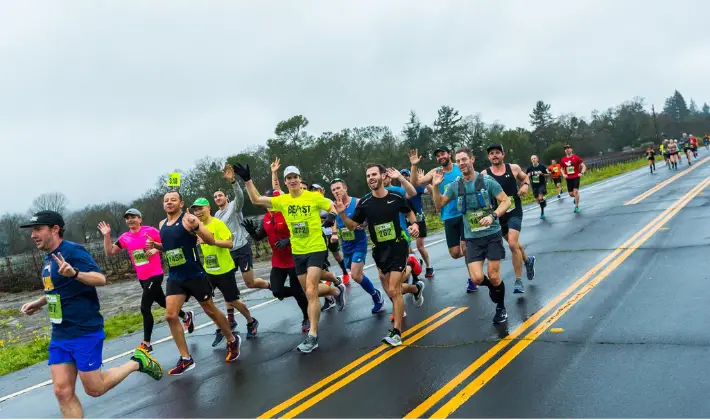 Napa Valley Marathon is a USATF-certified, Boston Qualifier race with one of the most beautiful marathon courses in the world running the length of the wine-growing region of Napa Valley. It is also a qualifying race for the Abbott World Marathon Majors Wanda Age Group World Ranking.
The Napa Valley Marathon is an annual event held in Napa County, California since 1979 and accepts only 3000 runners The NVM has been dedicated to promoting quality road racing while supporting local community causes. This non-profit race has donated hundreds of thousands of dollars over the years back to the local community of Napa Valley to help fund many different community causes, including a $16,000 scholarship fund given to high school students within Napa County.
While the race begins in Calistoga, it takes the runners along the Silverado Trail with a finish at Vintage High School in north Napa. The course is mainly of rolling hills or flats and except for the last half mile, it is mostly rural county hence runners can take in panoramic views of the valley and its vineyards.
It is also known as the "biggest little marathon in the West".
---
Book Your Stay Near Race Starting Point
---
Napa Valley Marathon
Race Categories, Dates, Registration, Eligibility & Fees
Marathon
Half Marathon
5K Run
Distance
42.2km
21.1km
5km
Start Time
7:30 am
7:00 am
7:15 am
Eligibility Criterion
18 years & above
12 years & above
No eligibility criterion specified
Fees *
USD 175 & Up
USD 130 & Up
USD 45 & Up**
Registration
Register here
Register here
Register here
Expo Details
Venue:  Meritage Ballroom, Meritage Resort, 875 Bordeaux Way, Napa

Date & Timings: March 2, 2024 (9am – 6pm)
* Fees for events are sometimes time–sensitive i.e. increase closer to the race date.
** Fees for 16 & under participating in 5K Run is USD 25
---
Route/Course Map
Information about the course maps & other details for the Napa Valley Marathon 2024 is detailed below 
The NVM route for Full and Half Marathon has a POINT TO POINT course while the 5K run is an OUT & BACK course with the below-mentioned Start and Finish points:
| | Start Point | Finish Point |
| --- | --- | --- |
| Marathon | Silverado Trail at Brannan Street | Vintage High School |
| Half Marathon | Silverado Trail at Conn Creek | Vintage High School |
| 5K | Vintage High School | Vintage High School |
---
Prize Money
Information about the prizes/ awards for the Napa Valley Marathon 2024 is detailed below 
Marathon
Men's, Women's & Non Binary Winner: Etched double magnum + Napa Valley Collective Case (12 different bottles of wine from the valley)
Masters Men's & Women's Winner: Etched magnum
Half Marathon
Men's, Women's & Non Binary Winner: Etched double magnum + Napa Valley Collective Case (12 different bottles of wine from the valley)
Masters Men's & Women's Winner: Etched magnum
Age Groups awards
17 and under: Athletic Feat gift card
18-20 years: Athletic Feat gift card
Top three in each of following age groups will receive a bottle of wine (must be 21 and present to win): 21-24, 25-29, 30-34, 35-39, 40-44, 45-49, 50-54, 55-59, 60-64, 65-69, 70-74, 75-79, 80+
Napa County Resident (1st place only)
5K
The top 3 men, women and non-binary will win the following:
1st – $125 Athletic Feat gift card
2nd – $75 Athletic Feat gift card
3rd – $50 Athletic Feat gift card
---
2023 and Earlier Edition Results/Photos
Results
Photos
---
Important Points
Elite Athletes: Runners can apply for the Elite category (and receive complimentary entry) if they have achieved the following standards in the last 24 months Elite standards are as follows for a marathon

2:25:00 (Open Men) and 2:40:00 (Masters Men)
2:47:00 (Open Women) and 3:00:00 (Masters Women)

Deferment/ Upgrade/ Downgrade/ Transfer: Registration for Marathon & Half Marathon can be deferred to the following year for a $75 charge. Downgrades (higher price point race to lower price point race) are available for a $10 fee. Upgrades (lower price point race to a higher price point race) are available for a $10 fee plus the cost difference at the current price tier. Transfer of bib not allowed
Legacy program: Runners can work their way toward a 5-time or 10-time participant level within the Legacy Program and receive a set of perks based on their current level.
Pasta party: Typically, there is a (paid) Pasta Dinner the day before race day, at the Silverado Resort. Seating is limited
Aid Stations: There are 12 aid stations along the full marathon course (the half marathon shares the last 6 aid stations on the course). Water and Nuun Endurance Lemon Lime are offered. Portable toilets are also located at each station. Gels would also be available at miles 13.9 and 20.8
Pacers: Pacers would be available for marathon & half marathon
Jogging strollers: Strollers are allowed in the 5K, and must be lined up in the back.
Finish line amenities include medals, heat sheets, water, medical support, physical therapists, hot soup and bread, and gear pick-up.
Awards: By law, the Kaiser Permanente Napa Valley Marathon cannot ship any awarded wine so winners must be present to take their prizes/ awards
Time limits are applicable for all the races since the course would be thrown open for regular traffic by 1:30 pm

Full Marathon: 6 hr
Half Marathon: 6 hr 30 min
Contact Information
Address: Napa Valley Marathon, PO. Box 4307, Napa, CA 94558-0430
Phone: 707-255-2609
Fax. : 707-257-6515
Email:
General race questions or registration: raceinfo@napavalleymarathon.org
Sponsorship & expo booth sales: christy@blisteringpace.com
Elite Athletes: elites@napavalleymarathon.org
Media: media@napavalleymarathon.org
Volunteers: volunteers@napavalleymarathon.org
Scholarships: scholarships@napavalleymarathon.org
Website: https://tcsworld10k.procam.in/
Twitter: https://twitter.com/TCSWorld10K
Facebook: https://www.facebook.com/tcsw10k/
Instagram: https://www.instagram.com/tcsw10k/
Youtube: https://www.youtube.com/user/procamrunning