Adani Ahmedabad Marathon – 2023 Registration & 2022 Results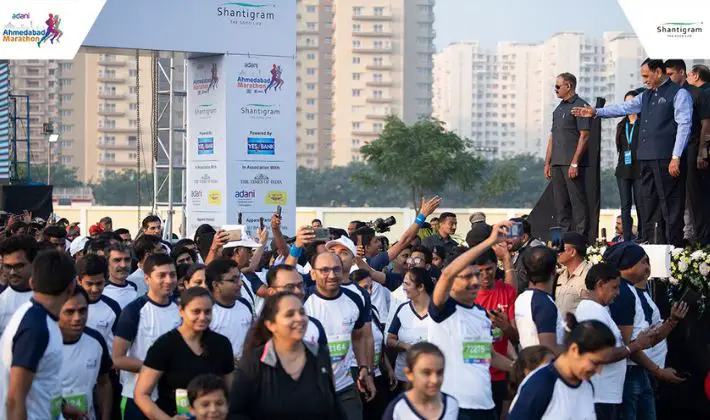 Initiated and sponsored by Adani Group, the Adani Ahmedabad Marathon, with an AIMS certified course, is the only run in Ahmedabad city to have been featured in the 'Global Marathon Event List – AIMS World Running' in 2022.
The AA Marathon is organized to show solidarity and support the Indian Armed Forces and has garnered huge runner support within a span of few years. The Ahmedabad Marathon's cause, "# Run4OurSoldiers," has become its distinguishing feature with a large portion of the proceeds going to the welfare of the Indian Armed Forces.
The event aimed to promote health and fitness while paying tribute to the brave soldiers has also earned runners' regard for offering one of the most picturesque routes in the world .The race categories include full marathon, half marathon, 10 km, and 5 km run.
The overall participation has been in the range of 17000-20000 over the years and even post Covid, it managed to have over 8000 runners in its 2021 live/on ground edition all the while adhering to all Covid protocols.
---
Book Your Stay Near Race Starting Point
---
Adani Ahmedabad Marathon
Race Categories, Dates, Registration, Fee & Eligibility
Marathon
Half Marathon
10K
5K
Distance
42.2km
21.1km
10km
5km
Start Time
5:00 am
6:00 am
7:00 am
7:30 am
Eligibility Criterion
18 years & above
18 years & above
12 years & above
10 years & above
Fees* 
INR 1395 & Up
INR 1215 & Up
INR 855 & Up
INR 540 & Up
Registration **
Register here 
Register here
Register here
Register here
Expo Details
The Expo for 2022 event was held at Riverfront Event Center, Narayan Nagar Society, Kocharab, Paldi, Ahmedabad, Gujarat 380007 for 2 days prior to the race Sunday
*Fees include all taxes. Fees for Live events are time-sensitive i.e. increases closer to the race date. Early bird discounts are available. Charity spots are available for each race
**Participants can apply under one of the following categories
Armed Forces Category: All participants must register through their respective Armed Force (Army/ Navy/ Airforce) unit in coordination with the organizers. If directly registered, they will be considered under Open Category (or Local Category, as applicable)
Open Category: All participants except 'Armed Forces ( Army, Navy, Air-force)
---
Route/Course Map
Information about Route Map and other information for Adani Ahmedabad Marathon 2023 is provided below.
The Adani Ahmedabad Marathon route has an OUT & BACK course with the below-mentioned Start and Finish points:
| Start Point | Finish Point |
| --- | --- |
| Riverfront Sports Park (Paldi), Near Sardar Bridge, Ahmedabad | Riverfront Sports Park (Paldi), Near Sardar Bridge, Ahmedabad |
---
Prize Money
Information about Prizes for Adani Ahmedabad Marathon 2023 is detailed below. Prizes would be based on Net time. All prizes equal for male & female participants
| | 1st Prize | 2nd Prize | 3rd Prize |
| --- | --- | --- | --- |
| Full Marathon | | | |
| Open | INR 100,000 | INR 75,000 | INR 50,000 |
| Each age group (30-34, 35-39, 40-44, 45-49, 50-54, 55-59, 60+) | INR 30,000 | INR 20,000 | INR 15,000 |
| Armed Forces- Fastest Runner | INR 100,000 | INR 75,000 | INR 50,000 |
| Half Marathon | | | |
| Open | INR 75,000 | INR 50,000 | INR 30,000 |
| Each age group (30-34, 35-39, 40-44, 45-49, 50-54, 55-59, 60+) | INR 20,000 | INR 15,000 | INR 10,000 |
| Armed Forces- Fastest Runner | INR 75,000 | INR 50,000 | INR 30,000 |
| 10K | | | |
| Open | INR 45,000 | INR 30,000 | INR 20,000 |
| Each age group (30-34, 35-39, 40-44, 45-49, 50-54, 55-59, 60+) | INR 15,000 | INR 12,000 | INR 9,000 |
| Armed Forces- Fastest Runner | INR 50,000 | INR 40,000 | INR 25,000 |
---
2022 and Earlier Edition Results/Photos
Results
Photos
---
Important Points
Registration Fee is non-refundable & registrations are non-transferable.
All Participants should submit both COVID Vaccine certificates while registering OR Submit negative RTPCR Report/COVID Vaccine certificates during BIB Expo.
The participant should upload a valid and legible photo ID Card (Aadhar / Driving License / PAN / Voter ID Card / Passport) during registration.
There are 3 categories of runners – The armed forces category, the Open category, and the Local category. Refer to the 'Eligibility' criterion for more details.
Water, energy drinks, and other refreshments would be available on the route/course. Water and refreshments are available to all runners post-race finish.
Medical and washroom facilities would also be available on the route/course as well at the start point/ finish line of the race.
Time limits are applicable for all the races after which the course would be open for regular vehicular traffic.

Full Marathon: 6 hr 30 min
Half Marathon: 3 hr 30 min
10km run: 2hrs
5km run: 1hr 30min
Contact Information
Address: Adani Sportsline, Adani Corporate House, Shantigram, Near Vaishnodevi Circle, Sarkhej-Gandhinagar Highway, Ahmedabad 382421, Gujarat
Phone: +91 79 25555876, 90991 36879
Website: https://www.ahmedabadmarathon.com/
Twitter: https://twitter.com/AhmdMarathon
Facebook: https://www.facebook.com/AhmdMarathon/
Instagram: https://www.instagram.com/AhmdMarathon/