Charlevoix Marathon – 2024 Registration & 2023 Results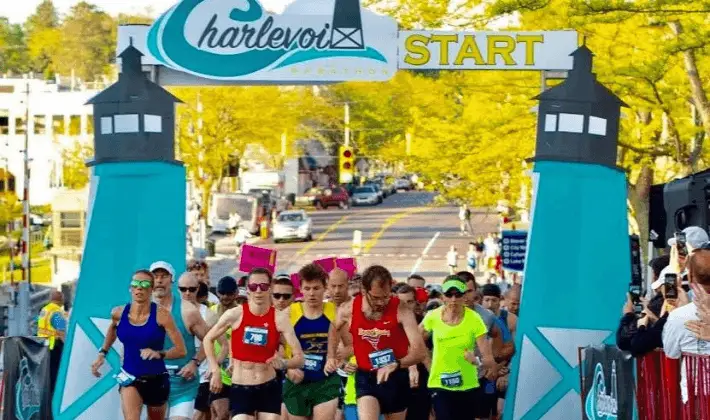 Named one of the 'Top Running Events in US' by Serious Running Magazine and amongst the 'Top 10 Small Town Marathons' by Runners World Magazine (2015), the Charlevoix Marathon is a USTAF certified Boston Qualifier race with an amazing 18% qualifying rate amongst those who run this marathon.
The course is mostly flat and fast (with some hills) and takes the runners through a scenic route covering residential neighborhoods and bike trails. Mostly shaded, the course also follows the Lake Michigan shoreline at some parts. All races start and end at the Draw Bridge in downtown Charlevoix.
---
Book Your Stay Near Race Starting Point
---
Charlevoix Marathon
Race Categories, Dates, Registration, Eligibility & Fees
Marathon
Half Marathon
10K
5K
Distance
42.2km
21.1km
10km
5km
Start Time 
6:00 am
6:30 am
7:00 am
7:15 am
Eligibility Criterion 
16 years & above
14 years & above
No age criterion specified
No age criterion specified
Fees  #
$85 & Up
$65 & Up
$40 & Up
$25 & Up
Registration
Register here
Register here
Register here
Register here
Expo Details 
Venue: Bridge Park – 200 Bridge Street, Charlevoix, MI 49720
Date & Timings: June 14 (12pm-8pm) & June 15 (limited timings)
# Fees for Live events are time-sensitive i.e. increases closer to the race date. Early bird discounts are available. 
---
Route/Course Map
Information about the race routes & elevation details for the Charlevoix Marathon 2024 is detailed below.
The Charlevoix Marathon route has an OUT & BACK course with the below-mentioned Start and Finish points:
| Start Point | Finish Point |
| --- | --- |
| Downtown Charlevoix (at the corner of E Dixon and Michigan Avenue) | Downtown Charlevoix |
---
Prize Money
Information about the prizes/ awards for the Charlevoix Marathon 2024 not yet available. Below are details from the 2023 edition for reference. All prizes are paid equally to male and female competitors for each of the distances.
OVERALL AWARDS
Top Three (male/female) in Each Category:
Marathon
Marathon Masters
Half Marathon
Half Marathon Masters
10K
5K
​
AGE GROUP AWARDS
Age group awards are given for all Marathon, Half Marathon,10km, and 5km participants in five-year age increments, and the top three in each age group.

---
2023 and Earlier Edition Results/Photos
Results
Photos
---
Important Points
Aid stations: There are aid stations on the course which would provide Water, Gatorade, GU gels, pickle juice, pickles (at limited stations only), licorice, and first aid kits.
Bridge: The bridge goes up every half hour- so runners need to plan Bib pick-up and race line-up time accordingly.
Category change: Race category change allowed. Contact sharon@charlevoixmarathon.com.
Misting station: There will be a misting station available
Packet/Bib Pick up: While packet picks up can be done during the expo as well as on race day, runners need to get their bib collected a minimum of 15-30 min before the race start – Refer below:

Marathon: 5:00 AM to 5:45 AM
Half Marathon: 5:30 AM to 6:15 AM
10K: 6:00 to 6:45 AM
5K: 6:00 to 6:45 AM

Pacers: Pacers for Half Marathon and Full Marathon are available.
Portable loos: Other than those available at the start/finish line, there are spots on the route with a portable loo facility.
Race Weather: The city experiences mild to pleasantly warm weather in the early summer with the average low being 51ºF and the average high being 79ºF.
Refunds: No refunds or deferral other than active military duty calls.
Stroller/roller blades/wheeled vehicles/ etc. The race does not allow any strollers, roller blades, pets, wagons, or other wheeled vehicles on the Marathon, Half Marathon, and 10K courses. Strollers are permitted only for the 5k race.
Time limits: Everyone needs to finish their respective race by 1 pm – post that they will need to move to the sidewalk as normal traffic flow will be allowed. ​
Timekeeper: RF Event Services are the official timekeepers. Check www.rfeventservices.com.
Transfers: Transfer of slot to another runner allowed. Contact sharon@charlevoixmarathon.com.
Contact Information
Address: Good Boy Events, 9775 Ponderosa Drive, South Lyon, Michigan 48178
Phone: 248-921-2720/ 248-921-1032
Email: Info@charlevoixmarathon.com, sharon@charlevoixmarathon.com, ron@goodboyevents.com
Website: https://www.charlevoixmarathon.com/
Twitter: https://twitter.com/CVXMarathon
Facebook: https://www.facebook.com/Charlevoix-Marathon