Brisbane Marathon Festival – 2024 Registration & 2023 Results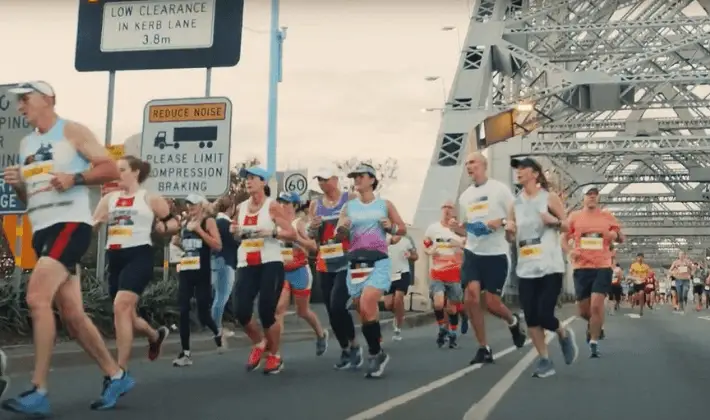 The Brisbane Marathon Festival, first held in 1992, is Brisbane's oldest and the only marathon distance running event attracting over 8000 runners across the various events. With an IAAF- AIMS-certified course, the Brisbane Marathon is a Boston Qualifier race. It truly offers a bouquet of races suited to all age groups with the youngest participant being 4 years and the oldest being 83 years old! The event is a major fundraiser for the Ronald McDonald House Charity.
Various Distances/Events offered during the race are as follows:
Kids 2km
5K (Walk & Run)
10K
Half Marathon
Marathon
The marathon course records are held by Samuel Woldeamanuel (2:21:50) in the men's category and by Marina Wong (2:44:03) in the Women's category.
---
Book Your Stay Near Race Starting Point
---
Brisbane Marathon Festival
Race Categories, Dates, Registration, Eligibility & Fees
Marathon
Half Marathon
10K
5K (Walk/ Run)
Mini Marathon
Distance
42.2km
21.1km
10km
5km
2km
Start Time
6:00 am
6:00 am
9:00 am
10:00 am
11:00 am
Eligibility Criterion
17 years & above
14 years & above
11 years & above
4 years & above#
4 years & above#
Fees**
$160 & Up
$125 & Up
$80 & Up
Run- $50/ $40 (U18) & Up
Walk- $50 & Up
$35/ $25 (U18) & Up
Registration
Register here 
Register here 
Register here 
Register here 
Register here 
Expo Details
Venue: Event Precinct, City Botanic Gardens
Date & Timings:  May 30 (12pm-3pm), May 31 (10am-5pm) and June 1 (9am-4pm)
#Entrants under 7 years need to be accompanied by an adult.
** Prices are time sensitive i.e. will increase as we get closer to the race date. 
---
Route/Course Map
Information about the Race Routes & Elevation details for Brisbane Marathon Festival 2024 is detailed below  
The marathon and half marathon routes are similar and takes the runners across Brisbane's well-known landmarks like the City Centre, the Story Bridge, Kangaroo Point Cliffs, and New Farm. For the Full marathon, the runners have to do 2 laps of the same route.
The Brisbane Marathon Festival has an OUT & BACK course with the below-mentioned Start and Finish points for all races:
| Start Point | Finish Point |
| --- | --- |
| Alice Street, Brisbane City | At Event Precinct – City Botanic Gardens |
---
Prize Money
Information about the prize details for the Brisbane Marathon Festival 2024 is given below. 
Awards would be handed out to the top 3 male and female competitors for each of the following distances – Marathon, Half Marathon, or 10km.
PRIZES
Marathon
Half Marathon
10km
1st
$1500
$1000
$400
2nd
$600
$200
$100
3rd
$400
$200
$100
Additionally, an incentive will be paid to the overall winner (male and female) in each of the above events if they complete the course in the times below.
INCENTIVES
Marathon
Half Marathon
10km
Men
Women
Amount
Men
Women
Amount
Men
Women
Amount
2:16:00
2:34:00
$2000
1:03:00
1:10:00
$1000
29:30
32:30
$1000
2:20:00
2:38:00
$1500
1:05:00
1:12:00
$750
30:30
33:30
$500
2:24:00
2:42:00
$1000
1:07:00
1:14:00
$500
31:30
34:30
$250
POINTS TO NOTE FOR PRIZES/AWARDS
All prize money is in Australian dollars (AUD).
All awards are paid equally to men and women.
All prize money and incentives are subject to a deduction of Australian income tax for those who are not Australian residents.
Prize money is subject to meeting any doping control measures in place.
Winners (1st place) in each age category would be provided with a medal. Age categories are as below:

Marathon & Half marathon: Wheelchair, 14-17, 18-20, 21-24, 25-29, 30-34. 35-39, 40-44, 45-49, 50-54, 55-59, 60-64, 65-69, 70+
10km, 5km (Run/walk): U14, U16, U18, U20, 20-29, 30-39, 40-49, 50-59, 60-69, 70+
2km: Wheelchair, Wheelchair (need a companion), U8, U12, U16, 16+
---
2023 and Earlier Edition Results/Photos
Results
Photos
---
Important Points
Aid stations: The aid stations are stocked with water and electrolytes. Few of the aid stations only cater to the special needs for marathon runners only.
Bib collection: All participants (registered before a certain date) have the option of having the bibs mailed. Else the bibs are made available at the event expo. A representative can also pick the bib on participants' behalf after showing the copy of registration email
Cancellation: Refund is allowed against cancellations with graded fee-return (dependent on the time of request).
Cut-off timings are applicable. Below are the cut-off time for Marathon, Half marathon, 10km race, and other races.

42.2km – 6hr cut off
21.1km – 3hr 30 min cut off
10km – 2hr cut off
All other races – Need to finish by Midday

Pacesetters: Pace setters would be available for Marathon, Half marathon & 10km
Prams & Wheelchairs: Children within pram and wheelchair participants are welcome to participate in the race. For safety reasons, they would need to start from the back of the field.
Transfer of Bib/ Distance: Transfer to another person is allowed. Transfer to another distance is subject to the availability of spots.
Training guides: Training guides are available for download for marathon, half marathon & 10km categories on the official marathon website.
Weather: The morning temperature is slightly chilly but pleasant at around 70 C warming up to 220 C during the day.
Contact Information
Address: Brisbane Marathon Festival, 33 Park Road, Milton, 4064, Queensland, Australia
Phone: 61733698938
Email: info@brisbanemarathon.com, info@myatlasevents.com.au
Website: http://www.brisbanemarathon.com
Facebook: https://www.facebook.com/brisbanemarathon/
Instagram: https://www.instagram.com/brisbanemarathon/