Lost City Marathon – 2024 Registration & 2023 Results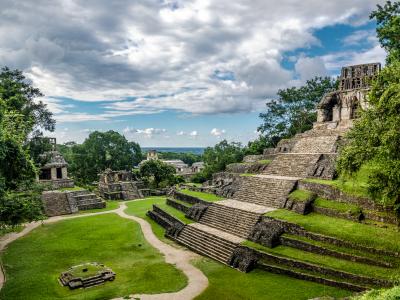 | | | |
| --- | --- | --- |
| Palenque, Mexico | Feb 24, 2024 | Registration  Open |
The Lost City Marathon is held in the ancient Maya city of Palenque, México. Palenque is a city nestled in the dense rainforests of Chiapas region in the Yucatan peninsula – now been recognized as a UNESCO World Heritage Site for its historical and cultural significance
Surrounded by lush vegetation, the route is quite challenging and follows steep hill, jungle trails & rivers. The course takes the runners through picturesque ranches and small villages giving them a chance to run a marathon surrounded by breathtaking beauty. The race features both a marathon and a half marathon.
Lost City Marathon is a part of the extreme marathon series hosted by Adventure Marathon. Albatros Adventure Marathons – not only provides packages for Lost City Marathon but also offers packages for other races listed below:
First Light Marathon
Icefjord Midnight Marathon
Great Wall Marathon
Big Five Marathon
Island Volcano Marathon
Petra Desert Marathon
World's Fastest Marathon
Polar Circle Marathon
Bagan Temple Marathon
---
Book Your Stay Near Race Starting Point
---
Lost City Marathon:
Race Categories, Dates, Registration, Eligibility & Fees
Marathon
Half Marathon
Distance
42.2 km
21.1 km
Start Time
7:00 am
7:00 am
Eligibility Criterion
18 years & above
16 year & above
Fees – Race fees #
USD 250
USD 250
Fees – Package #
Packages starting at USD 990 & Up
(single room supplement USD +150 & Up)
Registration#
For International runners:
Register here
For surrounding area runners & Local residents:
Please Contact organizers
Bib Pick-up/ Briefing Details
Date & Venue: TBD
# Race entry depends on your residential status: Please check here for more details
International participants: Race entry is ONLY possible in conjunction with a multi-day tour package. The packages include accommodation, social events, sightseeing, and select meals and transportation per the itinerary. Race entry fees is separate.
Residents of China: Participants living permanently in Mexico and holding a residency permit are eligible for local entry, which includes only the race. As proof of eligibility, residents and citizens of Mexico must present a current, valid residency permit and/or passport. Upon receiving the entry, you will be requested copies of your official, government-issued documentation
---
Route / Course Map
Information about the course maps & other details for the Lost City Marathon 2024 not yet made available by the organizers. It would be updated as soon as there is any update on the official race page.
The Lost City Marathon route is an OUT & BACK course with below mentioned start & finish points
| | Course Map | Elevation Map | Starting Point | Finish Point |
| --- | --- | --- | --- | --- |
| Marathon / Half Marathon | Not available | Not available | Palenque Archeological Zone | La Chiapaneca restaurant, Near Palenque Archeological Zone |
---
Prize Money
All finishers receive a medal. A small, symbolic prize is given to the winners of both distances for men and women. Please note that there is no prize money.

---
Earlier Edition Results
Results
The 2024 edition would be the inaugural run for the Lost City Marathon
---
Important Points
Payment: At the time of booking, a 25% deposit will be charged to your payment card. The remaining 75% of the trip price will be charged 75 days prior to departure. If your trip is booked less than 75 days prior to departure, the full amount will be charged.
Change of distance: It is possible to change the distance on the race briefing day (prior to race day). Participants can also change distance earlier by contacting the organizers.
Valid visa and passport is a must to travel to China
Travel insurance: All travellers must be suitably insured.
Travel restrictions: All travel participants must be self-reliant. Please consult the travel agency before booking a tour. The travel agency reserves the right to decline participants who will not be able to participate in the tour on their own.
Surface: The Lost City Marathon is mainly run on gravel road with a few short parts on asphalt and a stretch on the Sendero Motiepa trail. Marathon runners will also have approximately 10 km on narrow mountain trails through jungle forest.
Aid stations: There will be water stations approximately every 4 kilometres. Some stations will also serve energy drinks
Time limit applicable on the course
– Marathon –7 hrs
– Half Marathon- 6 hrs 30 min
Terms & conditions: Please read more about Albatros Adventure Marathons Terms & Conditions here.
Travel partners: Albatroz Adventure Marathons has a number of travel partners around the world. You can check the list of travel partners here
Contact Information
Mailing address: Albatros Adventure Marathons, Tøndergade 16, DK-1752 Copenhagen V
Denmark
Email: info@adventure-marathon.com
Tel: +45 36 98 98 38
Website: https://lost-city-marathon.com/
Facebook: https://www.facebook.com/people/Lost-City-Marathon/
Instagram: https://www.instagram.com/albatrosadventuremarathons/
Youtube: https://www.youtube.com/user/AdventureMarathon
Linkedin: https://www.linkedin.com/company/albatros-adventure-marathons/