Hoover Dam Marathon – 2023 Registration & 2022 Results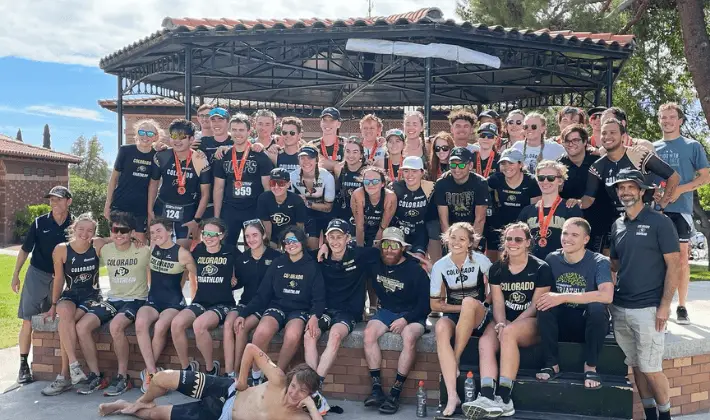 Established in the year 2001, the event is organized by BBSC Endurance Sports. The event offers a full marathon, half marathon, marathon relay, 10k, and 5k run.
Hoover Dam Marathon also known as Boulder city run is a historic and scenic race taking place at Lake Mead National Recreation Area, approximately 18 miles from Las Vegas, U.S. The course is a mix of trail and asphalt.
---
Book Your Stay Near Race Starting Point
---
Hoover Dam Marathon
Race Categories, Dates, Registration, Eligibility & Fees
Full Marathon
Half Marathon
Marathon Relay #
10k
5k
1 mile Stroll
Distance
42.2km
21.1km
42.2km
10km
5km
1.6 km
Race Date
Dec 9th, 2023
Dec 9th, 2023
Dec 9th, 2023
Dec 9th, 2023
Dec 9th, 2023
Dec 9th, 2023
Start Time@
8:00 am onwards
8:30 am onwards
8:00 am onwards
8:40 am onwards
8:45 am onwards
Not specified
Eligibility Criterion
Not specified
Fees*
$80 & Up
$60 & Up
$50 & Up (each)
$40 & Up
$30 & Up
$35 & Up
Registration
Register here
Register here
Register here
Register here
Register here
Register here
Expo Details

Race Day Expo: Boulder Beach Picnic Area Parking Lot, Lake Mead, Boulder City, NV (7:00am – 8:30am)
(Last year, pre-race day pick up was also available at Trek Bicycles (formerly McGhie's), 19 S Stephanie St. Suite 100, Henderson, NV 89005)
# A 2-members relay team is allowed.
@ The runners will be released in waves – 1st wave – Open Division with the last wave – Beginner Division.
* The fees are time-sensitive.
---
Route/Course Map
Information about the course map & other details for the Hoover Dam Marathon 2023 is not yet available but below is the course map from earlier edition of the Hoover Dam Marathon for reference – for Full Marathon (two loops) and Half Marathon (one loop). The course does not go over the Hoover Dam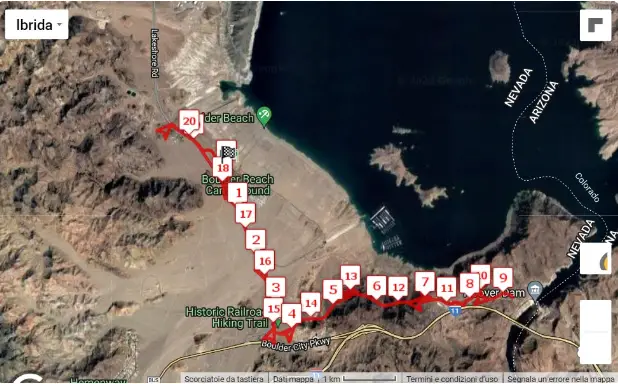 The Hoover Dam Marathon and Half marathon route has an OUT & BACK courses with the below-mentioned Start and Finish points:
| | |
| --- | --- |
| Start Point | Finish Point |
| Lake Mead's Boulder Beach | Lake Mead's Boulder Beach |
---
Prize Money
Information about the prize money for the Hoover Dam Marathon 2023 not yet available. Please find below the general information about the prize/ awards for the Hoover Dam Marathon 2022.
Top 3 Overall Males and Females will be awarded. Overall individuals will be excluded from the age group awards.
Top 3 Males and Females in each age group will be awarded. Age Groups are 15 and under, 16-19, 20-24, 25-29, 30-34, 35-39, 40-44, 45-49, 50-54, 55-59,  60-64, 65-69, 70-74, 75-79, 80 & over.
Top 3 relay teams will be awarded (The Relay Division will be Co-ed.
All finishers will receive a finisher medal.
Points to Note for Prize Purse
The Open/Elite division will qualify for overall awards but will not qualify for age group awards, per USAT rules.
Beginner division athletes will be eligible for both Overall and Age Group awards and will be included in Age Group rankings by USAT.
Awards can be mailed for a $10 Shipping and Handling fee. It may take a month or two for the runner to receive it.
Awards are equal for Male and Female participants
---
2022 and Earlier Edition Results
Results
---
Important Points
Audio devices/headphones will not be allowed.
Bib Swap/ sale: Participants who swap or sell their race number without authorization will not be allowed to race in another BBSC Endurance Sports event for a period of 2 years and will be subject to disciplinary action by USAT.​
Bib transfer: Transferring of registration to any upcoming BBC Event is allowed with a $10 transfer fee. The transfer is allowed within a calendar year or 12 months from the original event and written requests must be made more than 30 days in advance of the event. One transfer is allowed per original registration. The transfer only covers the race entry fee. USAT one-day fees, processing/transaction fees, and packet pick-up fees are non-transferable or refundable. An e-mail must be sent to info@bbsctri.com.
Course Description:

Packed-dirt trail – 14 miles of the full marathon; 7 miles of the 1/2 marathon.
Paved asphalt – 12 miles of the full marathon; 6 miles of the 1/2 marathon.

Medical aid: An ambulance with staffed paramedics will be positioned at the finish line.
Packet pick up: Packet pick-up will require photo proof of identity. Race day packet pick-up is allowed but $ 10 extra would be charged.
Pets and strollers aren't allowed on or near the course.
Porta-potties for the start/finish. A couple of restrooms will be located along the course.
Refunds: No refunds are allowed under any circumstances. The policy applies to Weather cancellations and any changes to the races after registration.
Race category transfer: Downgrades are free, but refunds are not issued for the difference in price. Upgrade by paying the difference in cost between the athlete's original entry and the cost of the upgraded entry.
Shoe recommendation – sturdy road running shoe. Trail shoes are not necessary, but participants are recommended against racing in flats.
USAT fees: Athletes who are not annual USAT members will be required to purchase a USAT single-day membership.
Course cut-off times are applicable Runners not on par with the cut-off timings will get to ride back in Official BBC Trucks.
Team relay: While the Relay captain will pay the entry fee when they register, each relay member must register individually and pay a 1-day USAT fee or provide their USAT number, individually and sign safety waivers.
Contact Information
Email: info@bbscendurance.com, Bbscendurance.com
Race Timer: Flatirons Event Specialists – Boulder, CO: alex@bbscendurance.com
Website:https://bbscendurance.com/hoover-dam-marathon/
Facebook:https://www.facebook.com/BBSCTRI/
Instagram:https://www.instagram.com/bbsctri/
Contact Form: https://my.raceresult.com/188063/contact