Texas Marathon Kingwood – 2024 Registration & 2023 Results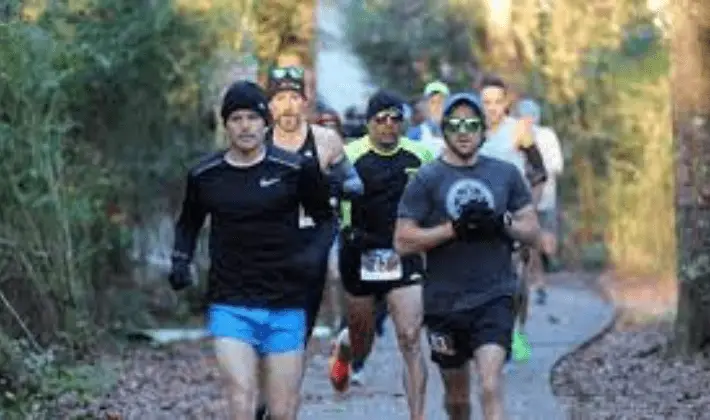 The Texas Marathon Kingwood has been held every New Year's Day in Houston, Texas, USA since the year 2000.
The Texas Marathon Kingwood has an interesting history. It was started at the behest of Rick Worley who was working on setting a Guinness World Record for the most marathons on consecutive weekends. He needed a marathon on New Year's Day and could only find a very difficult ultra-marathon. The race organizers offered to organize another marathon six days after the Free Kingwood Marathon using the same course, with a new name, "Jammin' in January" and held it on New Year's Day.
The race has been held on New Year's Day every year since then. Rick completed the Texas Marathon four times and participated in it every year until 2006.
The proceeds of the marathon are split between three children's charities.
---
Book Your Stay Near Race Starting Point
---
Texas Marathon Kingwood
Race Categories, Dates, Registration, Eligibility & Fees
Marathon
Half Marathon
Distance
42.2km
21.1km
Race Date
1st January, 2024
1st January, 2024
Start Time
8:00 am
8:15 am
Eligibility Criterion
Not specified
Not specified
Fees
$90
$90
Registration
Register here
Register here
Expo Details
Venue: At the park, 3826 Brook Shadow – Kingwood, TX 77345
Date & Time: 31st Dec (1pm-6pm) & 1st Jan (6:30am onwards)
---
Route/Course Map
Please check information about the course maps & other details for the Texas Marathon Kingwood 2024 below
The Full marathon course involves four loops on greenbelts in Kingwood, starting at the Greentree Pool, proceeding to Lake Houston, and returning to the Greentree Pool. The course is entirely on concrete greenbelt trails. The half marathon course has the same course with 2 loops
The Texas Marathon Kingwood route has an OUT & BACK course with the below-mentioned Start and Finish points:
| Start Point | Finish Point |
| --- | --- |
| Greentree Park, Kingwood, TX | Greentree Park, Kingwood, TX |
---
Prize Money
There are no cash prizes/awards for the Texas Marathon Kingwood.
---
2023 and Earlier Edition Results
Results
---
Important Points
Course certification: The course is USATF certified (Course certification number: TX15123ETM).
Refund or Transfer: If you are unable or unwilling about event participation, there are several options available to participants before December 15th. Please email texasmarathonkingwood@gmail.com as soon as possible.

Refund: You may request a refund and receive your entry fee less than a $10 irritation fee. Please request a refund by November 30th. No refunds after December 1st. Organizers process refunds once a month.
Transfer: If you know anyone who would be willing to take your place, you may transfer your entry to them for a $10 irritation fee. Please request transfers by December 1st. Organizers must receive the transfer form by December 15th. No transfers will be filled after December 15th.
Donate: If you would like to donate your entry to one of our active-duty military participants, organizers will do it for no fee. Please let the organizers know by December 15th so that they can notify a military person on their waitlist and allow them time to make plans.

Event size: There is a size limit on the event with the maximum number of participants capped at n=600
Bag Drop: There will be an area near the starting line where you can leave a drop bag that is easily accessible from the racecourse.
Aid Stations: There will be water and sports drink available every 1.5 miles at each of the aid stations. There are snacks available at the start/stop aid station (every 6.5 miles). Portable toilets are located at the start and at each aid station
Time Limit: The only time limit is that participants must finish before dark (5:30 pm). The third loop must be completed by 3 PM, or you will not be allowed to continue.
Timing will be provided by Run Houston Timing and finishing results will be available on the event website, www.marathonguide.com, and www.runhoustontiming.net. Results will also be sent to Boston.
Post-race: A pizza picnic lunch is provided after the race with fresh pizza being delivered every hour starting at 10 AM. Also, snacks, fruit, cookies, chips, and soft drinks are available while you cheer on the other runners as they finish.
​Contact Information
Address: 3826 Brook Shadow – Kingwood, TX 77345
Email: texasmarathonkingwood@gmail.com
Phone: (281)-684-3336
Website: https://www.texasmarathonkingwood.com/